Orders are only available on paid plans - Pricing for further information.
Orders are one or more recipes associated to a customer. So, before creating an order, you will want to make sure you have Customers and Recipes set up first.
Each order has:
Status

As your order progresses the status will change to help you keep track of what you need to do. There are 4 default status levels which should be self explanatory:

Quote
Active
Completed
Cancelled

Customer

Select which customer the order is for

Recipes

Select the various recipes associated to the order

Materials

Select the various materials associated to the order

Details

Details regarding the order to help you recall later on

Order Date

Date the order was received

Collection/Delivery Date

Date the customer will be receiving the order

Decoration Time

Add decoration time to your order in hours and minutes. This contributes to the overall cost estimations in your order

Baking Time Override

By default the order will calculate the baking time from the recipes you have selected. You can override this here if you need to

Additional Costs

Other costs. For example, setting up at a venue etc

Additional Costs Description

Description for the additional costs

Price Quoted

Price you've quoted the customer. This is helpful to work out your hourly rate and to make sure you're making a profit.

Allergen Issues

Information in regards to the customers allergen issues, if they have any. This can help to satisfy any local environmental health regulations. In the UK it is mandatory that this information is logged.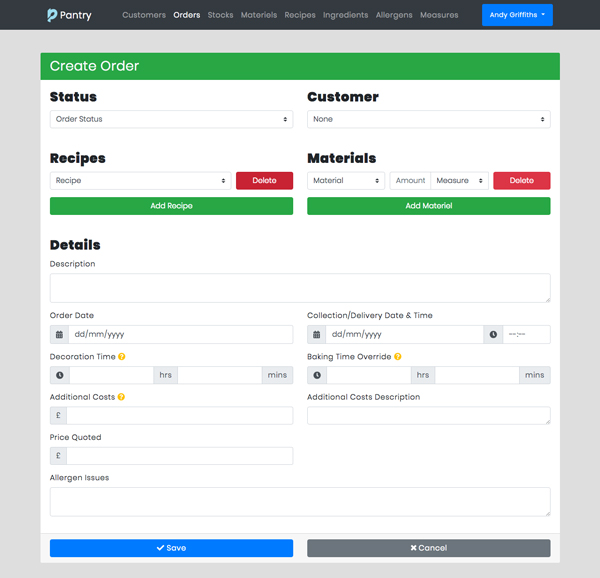 That may seem intimidating as there are so many fields, however, they are not all required depending on how you work. You can always edit your orders if required.
Taking your time to familiarise yourself with the orders section is paramount as this is a very powerful tool that allows you to track your work and estimate costs which will help your business make a profit.